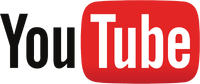 YouTube is a video-sharing website headquartered in San Bruno, California. The service was created by three formerPayPal employees in February 2005 and has been owned by Google since late 2006. The site allows users to upload, view, and share videos, and it makes use of Adobe Flash Video and HTML5 technology to display a wide variety ofuser-generated and corporate media video. Available content includes video clips, TV clips, music videos, and other content such as video blogging, short original videos, and educational videos.
Background
Edit
Auntie Fee joined Youtube on 29 July, 2014 under the name SistaGirl. She uploaded her first video on 30 July, 2014. As of 23 September, 2014, Auntie Fee has 233-thousand subscribers.
Auntie Fee's most popular video is "Auntie Fee's Sweet Treats for the kids." The video has 2.5 million views and was uploaded on 30 July, 2014.
Description
Edit
The only OFFICIAL YouTube channel of Auntie Fee. Http://YouTube.com/AuntieFee/