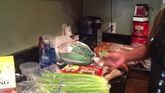 "Get ready for tonight" is the 50th upload by Auntie Fee. The video was released on 23 November, 2014. The video was originally released 22 November, 2014 before being quickly deleted. It was originally titled "Yal need to get ready 4 tonight".
In the three-minute video, Auntie Fee discusses future recipes that she plans on doing in celebration of Thanksgiving, an American holiday. Recipes mentioned include:
Ham
Stuffing (Auntie Fee calls it "dressing")
Potato salad
Macaroni and Cheese
Turkey
Sweet Treats
Bread pudding
Corn bread (if she has time)
Auntie Fee says that to make these videos, she will have to "pull an all-nighter" in order to make all of these recipes in time for the holidays.
Video Transcript
Edit
[Auntie Fee] "Okay, you guys, first of all, I'm doing okay right now. Okay, so, everything is good, but I know I got to get some shit out for you guys. Okay, cause I know Thanksgiving is in a few more days, a couple days. Listen, look at this right here. You guys get you some pineapples, have you some eggs. I'm gonna do a ham for you guys, I'm gonna do some dressing for you guys. Everything: real cheap, real easy, anybody can do it. So don't trip off with that there. I'm gonna do a little potato salad for you guys, okay. You guys already got the macaroni and cheese. If not, call me and I can help you with that there, okay. You got your seasoning, get your seasoning. Now, we're gonna do a turkey also. All this we're doing tonight. So, I'm pulling an all-nighter. Hopefully you guys will get it within you're supposed to know when to do it. Okay, a Sweet Treat. If Tavis is back in time, I will have him do some bread pudding. Okay? Now if you got bread pudding, you're only gonna need some bread, some raisins, a few eggs, some sugar, and cinnamon, and nutmeg, and all of that, okay? So you don't have to worry about none of that there. And I think somebody asked me about some corn bread. Straight-up corn bread, I call it 'real corn bread,' okay? Not from the box. I can show ya'll some of that there if I have time. I don't know how many videos we're gonna do, but I'm getting all of this out tonight so when the videos come, you will have them. Just make sure you have your seasoning like I told you to, and... You know what you're supposed to have because I told you guys what we were going to be doing. But tonight, I'm cooking a ham and a turkey, and some potato salad. I'm gonna do a small amount because I'm not gonna be here for Thanksgiving or Christmas; I'm gonna be visiting with my son, okay? So, just so you know. And you know what, I wanna show you guys something. Ya'll see this here? Auntie Fee don't drink. I have never took a drink in my life, okay? This goes for the strawberry shortcakes. Okay, when people want Patrón® in them and stuff like that there. So, I here you guys say little things, but I don't drink. One more thing I want to tell you guys is that: do what you wanna do. Try it my way, or if I'm just giving you the most parts that you need that you didn't know, that's fine. Do what you want to do. But other than that there. I'm just trying to help, that's all I'm trying to do. So, have all your stuff ready. And if it's anything you think I can make really quick for you guys, or I can really show ya'll really quick, call me before... I mean hit me on Facebook, or come to my room, and tell me some things that you kind of, like, having a problem with or you think I can cook, and get them out before that, so. I'm pulling an all-nighter, and it's all for you guys. Thank you."